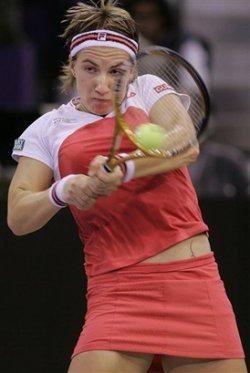 It was a big French Open weekend for tennis fans like me. I was glued to the men's final yesterday morning and the women's final Saturday morning. Of course, Roger Federer won the men's tournament.
But the lesson for today comes from the women's winner, Svetlana Kuznetsova.   It seems that how you look can make you a champion. At least one very important tennis journalist, Peter Bodo of Tennis.com and ESPN.com attributes her resurgence in part to her grooming.
Here's how Bodo described Kuznetsova's press conference after her victory over Dinara Safina.
"But it was about her own downside that the new Roland Garros champion was most articulate when she sat before the world press, wearing a white sports jacket with some sort of sparkles embedded in the fabric, her streaked blonde hair still pulled back in that pony tail that may be the perfect symbol of her makeover. And that's a transformation that may be deep-reaching."

"We don't like to put too much stock in appearances, but sometimes they tell us a great deal. And for long periods in the interim since Sveta won that first major in New York, she seemed oblivious to how she looked, to the point that she sometimes seemed disheveled, unprepared, unprofessional. This mattered because the carelessness and the lack of self-respect that it implied showed in her patchy, undisciplined game – and her results. And while the implications of all this may be discomfiting, it's undeniable that tennis players, especially top players, are generally very fastidious about their appearance and, if anything, overly conscious of style, grooming, and fashion. Their workplace, after all, is in the public eye."
How we look impacts how we feel about ourselves and how we perform.