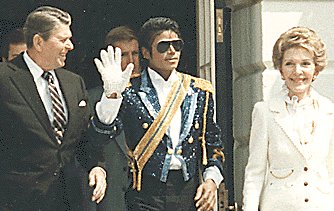 In watching the continuing converage of Michael Jackson's death, I was struck by his attire when he went to meet with President Reagan.  True to his image, the King of Pop wore a sparkling captain's outfit that made him look like a star from a jazzy revival of "The Pirates of Penzance".
But if you want to dress for success, you probably shouldn't take your cue from Michael Jackson.  Unlike MJ, you want to dress in a way that doesn't draw attention. 
If you're proposing a new distribution system, you don't want the audience thinking "those are the most colorful pants I've ever seen."
With that in mind, to ensure that your message stands out, make sure that your attire blends in. We tell our clients to dress one step above the audience. If everyone is wearing golf-course casual, then you should throw on a blazer.
Of course, what you wear depends a lot on your body type, your personal taste, and your industry.
Here are a few keys to keep in mind.
Select apparel, fragrances, jewelry, hairstyle, etc. that do not detract from your professional image.
Make sure your hair is clean, neat and professionally styled. Avoid styles that cover over more than your forehead or one that you have to brush back.
Remove facial and body piercings other than single ear jewelry.
Visible tattoos should be covered to avoid distraction.
Apparel should be clean and neatly pressed.
Apparel should fit well and remain in place while sitting and/or walking.
Choose professional apparel that you like for which you receive positive feedback from people who are knowledgeable about the industry standard or specific company policy.
Keep your look simple and successful.